The creation of the Shea Learning Center was made possible by a bequest of more than $11 million from Lucile Rosenfeld Shea. As a lifelong lover of books, Shea dedicated her bequest to the Troy Campus Library. Shea attended Russell Sage in 1937 and 1938, had donated modestly to the college during her lifetime, and did not reveal the details of her bequest before her death.  The library had been identified as a priority need for capital improvements in anticipation of a centennial campaign for Sage's 100th anniversary in 2016. In addition to the building renovation, the bequest funds educational programs, lecture series, media and software, professional development and continuing education and special collections. The bequest was announced in April 2012, library renovations began in January 2013, and the Shea Learning Center re-opened in August 2013.
The intent of the renovation was to integrate multiple services under one roof making the new center a single destination for students to receive assistance from Reference Librarians, the IT Help Desk, and tutoring from Academic Support.
The comfortable, flexible study space and the latest technology supports individual study, group collaboration, and preparation for presentations. The Center for Teaching and Learning provides faculty with resources and space for professional development, sharing of ideas and enhancing teaching practice.
Recognizing that valuable educational experiences can happen outside the classroom, the Shea Learning Center is also a vibrant social space that inspires and welcomes Sage community members to gather in the café over a cup of coffee, read the newspaper, or attend lectures and workshops in the building.
"This bequest will transform the 'intellectual heart of campus' to benefit today's students and further Sage's efforts to look and be its best as we culminate its first century in a few years."
President Susan C. Scrimshaw, Ph.D.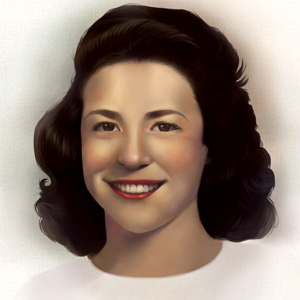 Lucile Rosenfeld Shea, ca. 1937
Digital image created by Brooke Battista
SCA student, 2012
Final Preparations & Dedication Gallery