Robert Frost Visits Sage: 1921, 1925, and 1945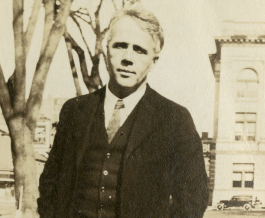 Russell Sage College would be one of my pleasantest memories, were it only for the heartfelt way you resented it when some rude honker made me jump for my life that rainy day I was there with you on the streets of Troy.

-Robert Frost to Julia Patton, 1924
The poet's brief sketch of downtown Troy might strike any Sageite, past or present, as a familiar scene: some things, as they say, never change. That being so, Robert Frost's most pleasant memory of Russell Sage College, and of own Dr. Julia Patton, makes for one of Sage's pleasantest memories also.
Mr. Frost's 1921 visit to our campus was prompted by Dr. Patton herself. A much beloved personage of the early college, Julia Patton had joined the founding faculty of RSC in 1917 as a professor of English Literature. As she recalls, Frost's invitation to speak at Sage came at the suggestion of another visiting poet, Stephen Vincent Benét, who assured the young ladies of Russell Sage College that Robert Frost, "would love to [visit]" them. Dr. Patton, who was personally acquainted with Frost, decided to write him. In November of 1920, he responded to Dr. Patton that he would indeed share his poetry with the "practical girls" of Russell Sage College. According to Patton:
He arrived in the afternoon, a little concerned lest he might have missed something at which had been expected to appear. That evening he spoke and read to a most responsive audience that filled Assembly Hall. After it he inquired, to the delighted surprise of his hostesses, "Now, what do you want of me tomorrow? Sometimes folks like to have me come to their classes. Do you want me to come to any of yours?" Some of the best things Mr. Frost said in Troy he said in the hour or two in which he talked and read, asked and answered questions, talked more, and read again in the little classroom at the back of Cook Hall.
So impressed were the Sage women that Dr. Patton once again requested Mr. Frost's presence in 1924. He agreed, arriving in Troy on April 13, 1925, and spoke to an audience of students from both Russell Sage College and the Emma Willard School. (The two schools split costs for the pleasure of hosting the recently Pulitzer-worthy poet. Frost was awarded his first Pulitzer Prize in 1924, and his speaking fee rocketed to a whopping $150 – the equivalent of about $2,000 in 2017.)
As reported the following week in The Quill, "[Frost's] manner was always informal and friendly and what he had to say was interspersed with many droll touches of homely wisdom." The poet treated his audience to not one, but two readings of Birches, which remains perhaps his most famous poem to date. He also delivered such favorites as Stopping by Woods on a Snowy Evening and Road Not Taken, among others.
Frost followed up his visit with a letter of thanks to Dr. Patton, along with a few autographed editions of his poetry for the Russell Sage College Library. "I wonder if the enclosed books would mean anything as remembrances from me to any [of] your girls or fellow teachers," he wrote.
Twenty years later, our college hosted Robert Frost one last time. By then, Julia Patton had retired from Sage's English department and moved to Florida. Frost had just turned seventy years old, and was perhaps the most renowned of American poets, having collected another three Pulitzers since 1924.
The Russell Sage Quill's account of his 1945 visit assigns him the same unpretentious bearing that echoes from earlier stories of his engagements here on campus:
Mr. Frost warned his listeners against 'studying poetry,' stating 'it is meant to be read.' He declared that his own resolve ever since his early teaching days has been, 'to never put a book to any use not intended by the man who wrote it.'
That evening at the Little Theater, Sage women listened once more as Robert Frost read some of his most beloved poems. Afterward, he met with students and faculty for a reception at Kellas House (a former dormitory, currently the site of Kellas Hall), where he shared excerpts of a recently published essay.
In 1963, the Russell Sage College Alumnae Quarterly reported the recent the death of Mr. Frost, an occasion that, "recalled for some early alumnae his visit to the campus…" In his honor, the magazine reprinted a familiar stanza from Stopping by Woods on a Snowy Evening:
The woods are lovely, dark and deep,   
But I have promises to keep,   
And miles to go before I sleep,   
And miles to go before I sleep.
Although he is arguably the most famous poet to visit Russell Sage College, Robert Frost is but one of many brilliant writers to grace our campus. In the twenties, Edna St. Vincent Millay, Vachel Lindsay, and Carl Sandburg all read at Sage as well. In later years, The Carol Ann Donahue Poetry Reading brought such distinguished authors as May Sarton, Maya Angelou, Margaret Atwood, Nikki Giovanni, and Diane Wakowski, to name but a few. The tradition continues to this day, bringing poets Marilyn Chin, Sandra Lim, and Sandra Beasley to Sage in recent years.
Sources:
"Death of Robert Frost Recalls Sage Visit." Russell Sage College Alumnae Quarterly, Winter 1963, 25.
Frost, Robert. The letters of Robert Frost Volume 2: 1920-1928. Edited by Donald Sheehy, Mark Richardson, Robert Hass, and Henry Atmore. Cambridge, MA: The Belknap Press of Harvard University Press, 2016.
Frost, Robert. "Stopping by Woods on a Snowy Evening." In The Poetry of Robert Frost, edited by Edward Connery Lathem. New York, 1923: Henry Holt and Company.
Patton, Julia. Russell Sage College: The First Twenty-Five Years, 1916-1941. 1941.
"Robert Frost Gives Poetry Readings in Little Theater." Russell Sage Quill, Vol. XXII No. 26. April 4, 1945.
The Quill, April 22, 1925.