Library Research Awards/ The REV Launch/ Poetry Readings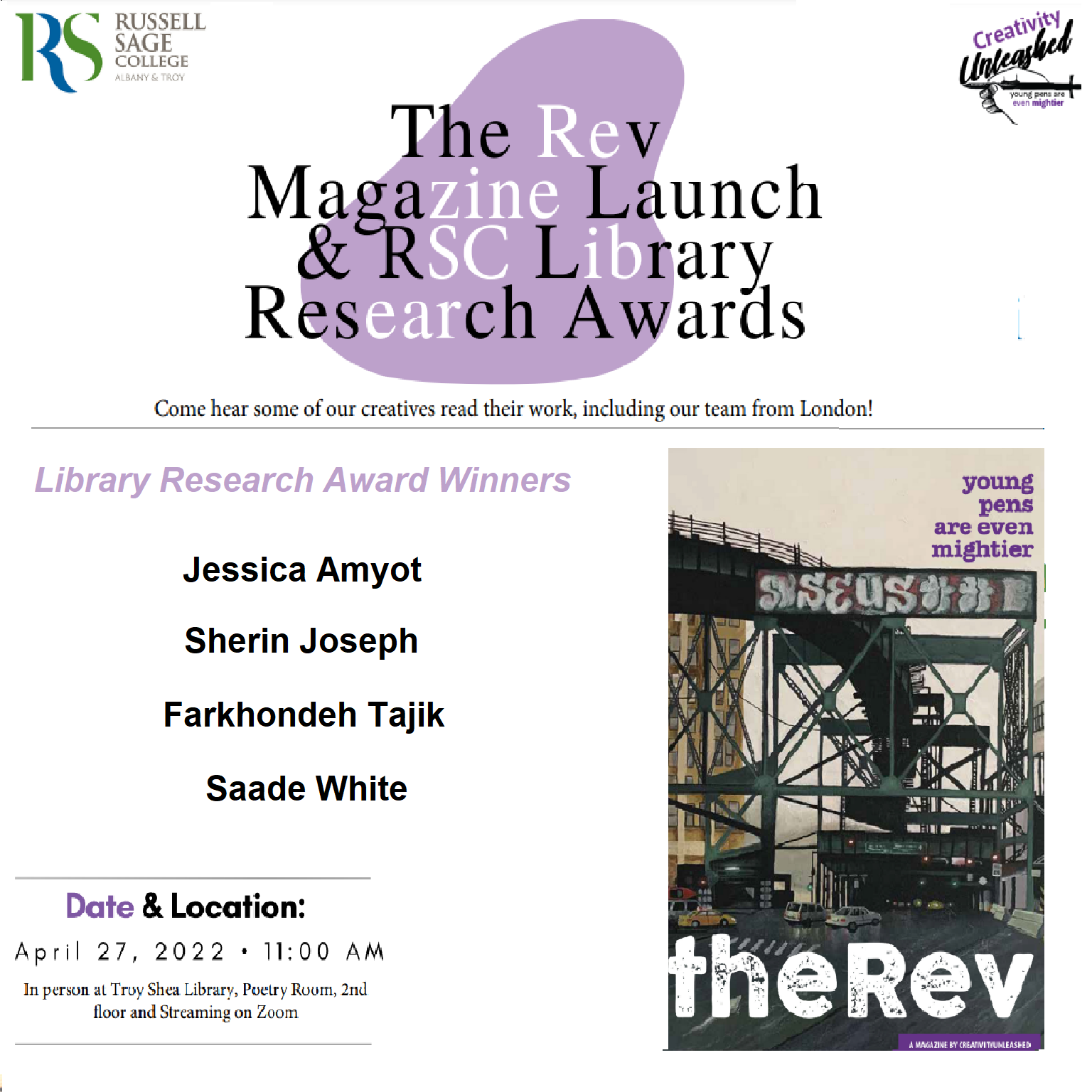 11 am April 27th Undergraduate Research Day
Shea Learning Center Poetry Room & via Zoom
If attending by Zoom, register by clicking here.
The Rev Magazine Launch
Poetry Reading
Library Research Awards Ceremony
Russell Sage College Helen Marx Harris '26 Library Research Award Winners are:
Undergraduate Papers
Winner: Farkhondeh Tajik
Paper Title: Abraham and Limon: Breaking Down Barriers
Farkhondeh's paper was written for Professor Senecal and Professor Teeter's class, DAN 111: Introduction to Modern Dance.
Winner: Saade White
Paper Title: Food Insecurity as a Social Determinant of Health
Saade's paper was written for Professor Maniccia's class, Pubic Health 201: Health and Society
Graduate Papers:
Winner: Jessica Amyot
Paper Title: Leadership and Ethics During a Public Health Crisis
Jessica's paper was written for Professor Kelman and Professor Del Rio's class, NSG 559: Nursing in a Sociopolitical-Environment.
Winner: Sherin Joseph
Paper Title: Ethics Case Analysis of Autonomy During the End of Life
Sherin's paper was written for Professor Michela and Professor Vanburen's class, NSG 558: Paradigms and Perspectives of Advanced Practice Nursing
These awards are given in memory of two special women who represent our two colleges – Janet G. Grimes for Sage College of Albany and Aggie Stillman for Russell Sage College.
Thank you to all who participated and
congratulations to the winners!
The Russell Sage College Libraries would like to thank all of the judges who helped make the 17th Annual Russell Sage College Library Research Award a success:
Jennifer Anderson, Robin Arnall, Marisa Beeble, Jill Ensminger, Morgan Gmelch, Gertrude Hutchinson, Nancy Michela, Harvey Strum, Kelli Tamvada