SAGE Video – Leadership Collection Trial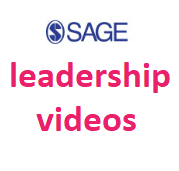 To access the trial, click here.
About SAGE Video- Leadership Collection: This cross-disciplinary video resource represents the field of leadership as it is researched and taught in a number of key subject areas. A variety of content types including case studies, documentaries and scenario-based in practice films will help users develop and improve leadership skills and competencies; understand different leadership styles, traits, theories; and understand the challenges and application of leadership.
With SAGE Video, you can:
• Create custom clips to hone in on key segments of a video
• Embed videos into Moodle
• Create playlists for quick reference or to share with students
• Incorporate into class discussion boards and lectures to prompt discussion
• Pair with traditional resources to accommodate different learning styles